Belgische Postnummers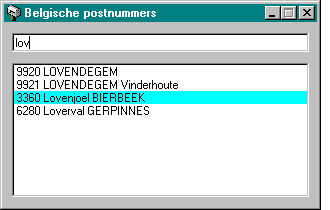 Post is een klein handig programma waarmee U het postnummer van alle Belgische fusie- en deelgemeentes kunt opzoeken.

De fusiegemeentes worden in hoodletters weergegeven, de deelgemeentes in kleine letters.

Wanneer U een naam intypt wordt de lijst van alle gemeentes waarvan de naam begint met de reeds ingetypte letters weergegeven. Uiteraard wordt de lijst steeds kleiner en dus overzichtelijker naarmate men vordert.

Als U een postnummer intypt, wordt de fusiegemeente met dit nummer weergegeven gevolgd door alle deelgemeentes met hetzelfde postnummer.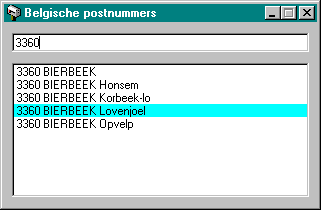 ---


Post is a small handy program to search for the postal code of all the Belgian cities and their districts.
Cities are displayed in uppercase, districts in proper case.
When typing a name, the list of all cities and districts starting with the already typed letters is displayed. When more letters are typed, this list reduces, becoming clearer of course.
When you type a postal code, the city with that code is displayed, followed by the districts with the same code.
---
Historiek
Versie 2.01
08.11.01 'Belgische Postnummers' zoekt nu automatisch naar 'Post.lst' in zijn eigen folder.

Versie 1.00
Eerste publieke uitgave.