Links2Tray
Links2Tray is a utility that resides in the system tray (near the clock). It displays a menu combining Internet Explorer's Favorites and Bookmarks from Firefox, Google Chrome and Opera. You can load any link's web page in either Internet Explorer, Firefox, Google Chrome or Opera (assuming you have these programs installed of course). When the browser isn't running yet, Links2Tray will launch it for you.

When the new Dump Popup Windows feature is enabled, those annoying popup windows, mostly containing advertisements, are automatically dumped (closed) on the spot in Internet Explorer 4 or higher. When desired, you can still view them by holding down the [Ctrl] key while clicking a link or reloading or by adding the URL's of allowed sites to a list.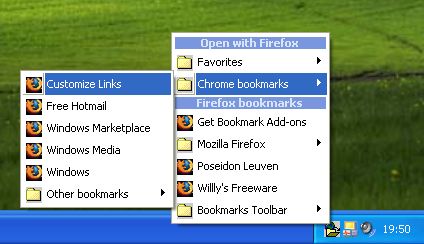 Links2Tray uses Firefox's Bookmarks.html to retrieve the data to build the menu. Starting with version 3 Firefox however no longer stores Bookmarks in it but in a database which Links2Tray cannot access. Although Bookmarks.html still exists, it remains static by default. However you can instruct Firefox to keep a copy of its bookmarks in it each time it closes. To do so, open Firefox and type about:config in the address bar and press enter. Accept the warning and look for browser.bookmarks.autoExportHTML. Double click on it to set it to true. Close Firefox. From now on Firefox will also save its bookmarks in Bookmarks.html each time it closes and Links2Tray will be able to build an actualized Firefox bookmarks menu. This applies to all versions of Links2Tray.
History
Version 2.52
28.10.14: Fixed error due to changed format of Firefox bookmarks file.
31.07.12: Fixed error warning when illegal character in path of 'Favorites' folder.

Version 2.51
22.05.10: Fixed error in folder names display due to changed format of Google Chrome bookmark file.

Version 2.50
16.02.09: Added support for Google Chrome.
16.02.09: Now you can choose which browser will be used with each mouse click mode ('left', 'left + hold down' and 'right + hold down').
16.02.09: 'Launch <browser>' menu items now show the appropriate icon in de main menu (right click).
03.02.09: Empty folders in Firefox and Opera bookmarks are now marked as such.

Version 2.21
18.01.07: Fixed install bug.

Version 2.20
07.06.05: Added support for Firefox
07.06.05: Added support for new bookmarks (former hotlist) format of Opera 7 and 8.

Version 2.11
25.03.03: Fixed bug causing an error at startup when 'Run Links2Tray at system startup' was checked.

Version 2.10
17.06.02: Added 'Allow popup windows' for URL's in a list.

Version 2.00
27.04.02: Added "Dump Popup Windows" feature: closes automatically popup windows in Internet Explorer 4 or higher.

Version 1.01
07.10.01: Menu items are now sorted alphabetically.

Version 1.00
02.07.01: First public release